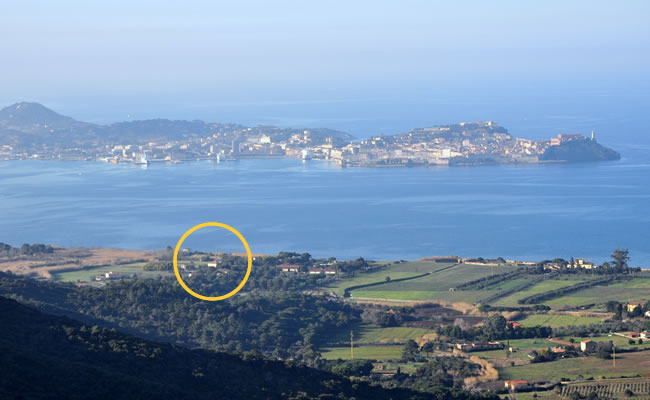 Hotel Tirrena is in Schiopparello, 7 km from Portoferraio, 100 meters from the free beach and in the heart of the countryside yet within easy reach by car of the main towns on the island.
GPS coordinates: 42°47'45" N 10°21'5" E
From the port to the Hotel:
GPS coordinates: 42°47'45" N 10°21'5" E
Once got off the ferry in Portoferraio, drive left out of the town center following the sign "ALL DIRECTIONS". Drive straight ahead, arriving at the first roundabout. Drive straight ahead also at second and third roundabout; at the fourth roundabout take left, direction "Porto Azzurro". Drive on, pass the "Terme di San Giovanni" on the left; after a couple of miles the road begins to climb. You will find a series of curves, on your left side you can admire the view over Portoferraio's Gulf. After about 5 Km, near the ex fun park ELBALAND, turn left towards "Bagnaia – Schiopparello – Magazzini". Continue on this road, pass Bar La Curva on the left side. After about 2 km you will find on the right side a supermarket (Conad Margherita). Immediately afterwards proceed to the dirt road to the left (follow the sign Hotel Tirrena).
Please inform us if your arrival is expected after 20.00.